How to write a condolence letter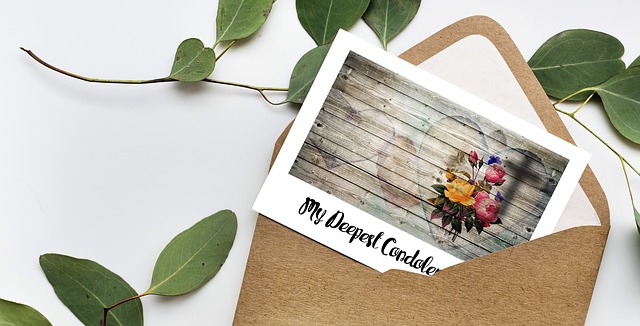 When somebody passes away, we mostly find ourselves at a loss for words, but composing a letter of condolence can aid in bringing solace to the bereaved. Attempt to write some words to let them know you're thinking of them and that their loved one made a difference in many people's lives. A sympathy letter must always honor the deceased's life and offer additional help to the grieving families when they are in need; they also might save the letter and look it again in the future.
Construct a handwritten letter
Preparing the letter by hand is far more meaningful than typing it or purchasing a sympathy card from a store, while you may decide to buy a card and place the letter within it. The letter can be acknowledged to a single grieving individual or the entire family.
Keep it brief and to the point
You don't need to compose a long letter as long as it's genuine. We're all afraid of telling the inappropriate thing and upsetting the bereaved, but expressing that you value in very few words is preferable to saying nothing at all.
Send your deepest sympathies
Best not to worry about how the person died. Rather, convey your genuine and heartfelt condolences and recognize the loss.
Here are a couple of examples;
I would like to convey my sympathies for your loss.
It was with deep sorrow that I found out about the death of.
I was deeply devastated to learn of the death of.
Share a fond memory
Communicating a special memory of the departed may bring the grieving family a few moments of happiness. They could benefit from hearing tales about their loved ones and how they favorably influenced the lives of others.
Provide your assistance and support
Add in the letter if you are ready and intend to give your assistance and aid in the coming weeks or months. The individual is often more likely to accept a precise offer of help, including doing the once-a-week grocery shopping; however, avoid making commitments that you cannot maintain.
Finish the note with some thought-provoking words
Try to close the letter with a few inspiring words that show your appreciation.
Here are some examples;
With my love and sincere sympathies
My heartfelt condolences
Condolence letters templates
To the family of a deceased work colleague
I'm writing this letter on behalf all [name's] workmates at  [company name] to convey our heartfelt condolences on your tragic loss. [Deceased Name] was a valuable contributor who made numerous accomplishments to the organization. Aside from being an outstanding worker, [he/she] was always friendly and considerate of [his/her] coworkers. [He/she] frequently spoke fondly of [his/her] family. Everybody at the office will, unfortunately, miss [Name].
To the relatives of a person, you didn't know well
I was extremely sorry about your recent loss. Although I didn't know [name] well, [he/she] was always courteous and respectful when we met. Kindly consider my condolences on your grief and loss.
To a neighbor or friend
Regardless of what we have last week communicated, I intended to write to express my condolences for your loss. [Name] was such a unique individual that no words can truly describe [him/her]. [He or she] delighted everybody and will be truly missed. People share with me how much [name's] friendship meant to them. I'll contact you soon to check if I can be of assistance in any way.
Tips for writing a condolence note or letter
To start writing your condolence letter, consider these steps. Not all of them are required, but they could give you an idea of how to structure your letter.
Start by directly mentioning the loss. While you don't have to be rude or harsh, you also shouldn't ignore the fact that someone has died. Note to address the deceased by their given name too.
Articulate your condolences in any way you see fit. You can get some ideas from the condolence letter templates written above.
You may discuss the person who died and a special memory you have of them. Perhaps an interesting tale or warm memory.
You could then go on to indicate some of the deceased's greatest strengths or personal attributes.
If you are able, do offer some assistance. Assist with the memorial service, doing some purchasing or preparing food for them, watching their children, and so on. However, only offer if you intend to assist. Don't make it a meaningless gesture.
Close the letter with a declaration of encouragement or a heartfelt sentiment.
Things to avoid when writing a condolence letter
Here are a few things to avoid when preparing a condolence note;
Prevent employing religious phrasing or connotations in your letter unless you are sure the recipient or grieving families had a deep faith or religious side.
Some phrases should never be used. ' It was their time', 'it's for the best," and so on. These phrases could be extremely disrespectful and set the wrong tone.
Allow them to grieve at their own pace and in the manner that suits them best. Don't push them to move on with their grief any sooner than they are prepared.
Do not go into specifics about the reason for death. When the grieving families are attempting to avoid dwelling on the situation, it may be an uninvited reminder.
Conclusion
When it comes to conveying your deepest sympathies, the key point to note is to speak honestly. Take a couple of minutes before you start constructing to consider who you are writing about. If you did not know the deceased, consider how their family members talked about them. Think properly you appreciated them or the positive deeds you learned about them. If you knew them, try to communicate a fond memory or moment with them that their loved one may not be aware of. Whatever you write, make sure to share it with sincerity and care. Finally, you would like to bring solace to the grieving families. Being gentle to their loved ones is the most effective way to accomplish that objective.